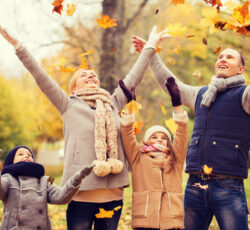 Fall is a wonderful season to spend quality time with your child and create lasting memories. With the cooler weather and vibrant colors, there are countless activities that you and your child can enjoy together. In this blog post, we will explore 10 must-do activities to do with your child this fall.
1. Pumpkin Patch Visit:
A visit to a pumpkin patch is a classic fall tradition and an excellent activity for children of all ages. Take your child to a local pumpkin patch where they can pick their own pumpkin. Let them explore the patch, play in the hay, and enjoy the festive atmosphere. This activity not only allows your child to experience the joy of finding the perfect pumpkin but also helps them connect with nature.
2. Leaf Pile Jumping:
Raking leaves doesn't have to be a chore; instead, turn it into a fun activity for your child. Once you've gathered a big pile of leaves, let your child experience the simple pleasure of jumping into it. They will love the sound and sensation of the leaves crunching under their feet. It's a great way to embrace the essence of fall and create happy memories together.
3. Apple Picking:
Fall is the perfect time to go apple picking with your child. Visit a local orchard where your child can pick their own apples. They will enjoy the excitement of finding ripe apples and learning about different varieties. Afterward, you can use the freshly picked apples to bake delicious treats together, such as apple pie or homemade applesauce.
4. Nature Scavenger Hunt:
Take advantage of the beautiful fall scenery and organize a scavenger hunt for your child. Create a list of things for them to find in nature, such as acorns, colorful leaves, pinecones, or different types of bark. Equip your child with a small bag or basket to collect the items. This activity not only encourages them to explore their surroundings but also teaches them about the beauty and diversity of the natural world.
5. Fall Crafts:
Engage your child's creativity with fall-themed crafts. There are endless possibilities, such as making leaf prints, creating scarecrows out of materials around the house, or constructing paper pumpkins. Encourage your child to use their imagination and let their artistic talents shine. These crafts can become cherished decorations that you can display throughout the season.
6. Nature Walk:
Enjoy the crisp, cool air by taking a nature walk with your child. Explore local parks, trails, or even your neighborhood and observe the changes that fall brings. Point out the different colors of leaves, listen to the sound of crunching leaves under your feet, and collect autumn treasures, such as colorful leaves or unique rocks. It's a simple yet meaningful activity that allows you and your child to connect with the beauty of the season.
7. Fall Baking:
Fall is synonymous with delicious seasonal treats. Spend a cozy afternoon in the kitchen with your child baking fall goodies. Whether it's pumpkin bread, apple crisp, or caramel apples, involve your child in the baking process. Let them measure ingredients, mix the batter, and decorate the treats. Not only will you create scrumptious treats to enjoy together, but you will also foster their love for cooking and create lasting memories in the process.
8. Costume Creation:
With Halloween just around the corner, involve your child in the process of creating their costume. Allow them to let their imagination run wild as they brainstorm ideas and help gather materials. Collaborate with them on designing and putting together their unique costume. This activity promotes creativity, problem-solving, and the joy of creating something from scratch.
9. Fall Photo Shoot:
Capture the beauty of fall and create cherished memories with a fall-themed photo shoot. Pick a picturesque location, such as a park or a forest with colorful foliage. Dress your child in cozy fall outfits and let them explore their surroundings while you capture candid moments. These photos will serve as a reminder of this special time together and can be displayed or shared with loved ones.
10. Movie Night:
Finally, on a cozy fall evening, have a movie night with your child. Choose seasonal favorites such as "It's the Great Pumpkin, Charlie Brown" or "Hocus Pocus." Snuggle up together with blankets and popcorn, and enjoy the movie while creating a warm and inviting atmosphere. It's a simple but delightful way to unwind and spend quality time with your child.
Conclusion
Fall offers numerous opportunities to engage with your child and create lasting memories. From visiting pumpkin patches and apple orchards to enjoying fall crafts and cozy movie nights, these activities allow you to celebrate the season and experience the beauty of nature together. Embrace the magic of fall and cherish these moments with your child.
Got Questions? Let Us Help!
At Happy Hearts on the Hudson our goal is to establish an environment rich in self-expression and self-confidence. Where every child learns the importance of responsibility, decision making, and respect for others. We are a family-owned business caring for children from 6 weeks old to 12 years old. Our teachers strive to develop the children's skills by engaging their hearts as well as their minds. For fun, care, or child education feel free to stop by or give us a call today!